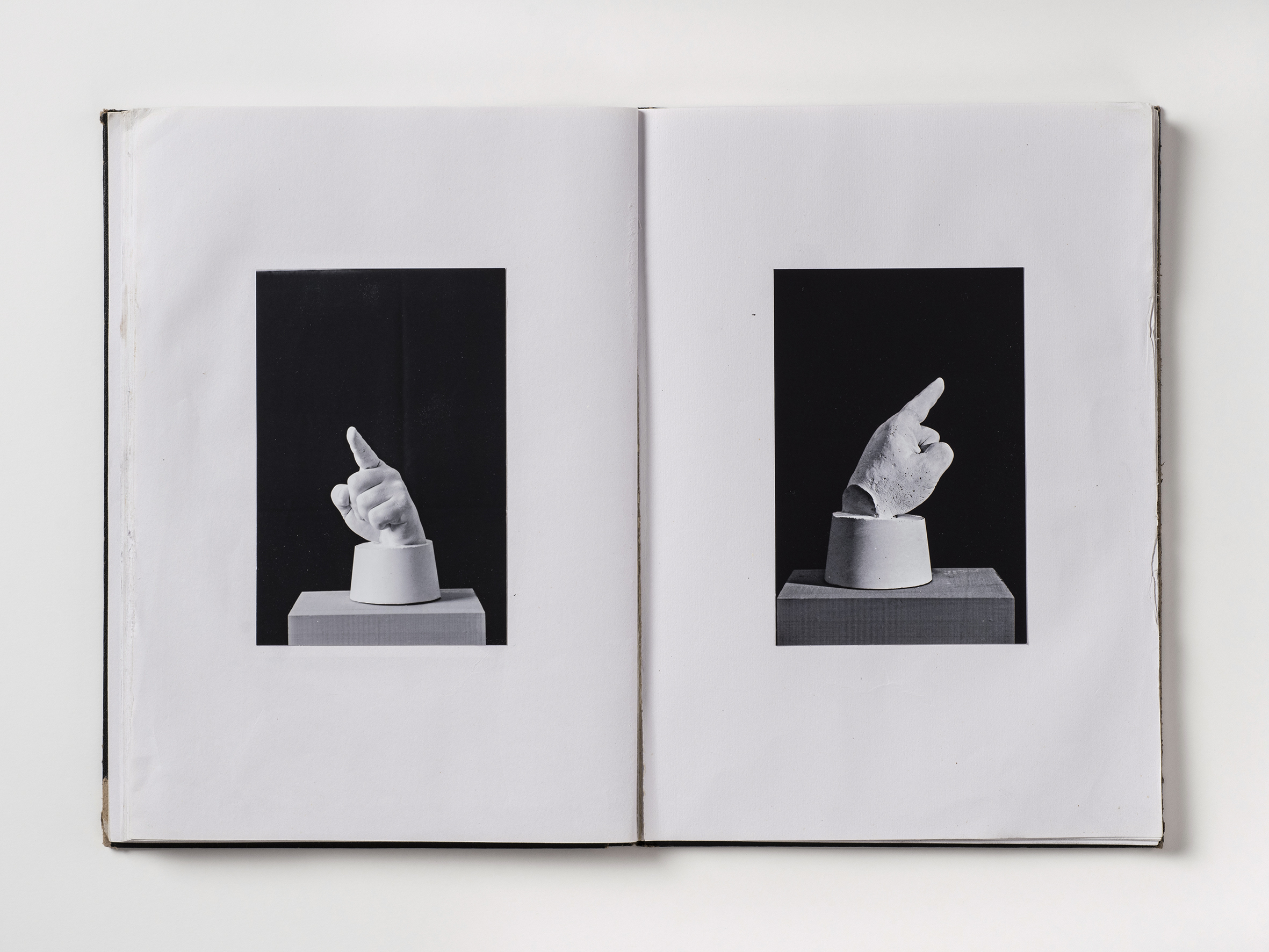 Propaedeutics on Memorial Structures Vol. II, 2020
Liontarovounos (eastern view), Liontarovounos (view from top towards the north) archival pigment prints
Giorgos Georgiou plaster model study (curtesy The Giorgos Georgiou Estate ©) vintage c-print mounted on board
Plates 1-10 (Giorgos Georgiou sketchbook, 1991) archival pigment prints
Giorgos Georgiou correspondence & Sculpture Record Volume (curtesy The Giorgos Georgiou Estate ©) photocopy prints, sketchbook. dimensions variable

From 1990 to 1994, Greek-Cypriot sculptor Giorgos Georgiou (1942-2008) worked on an idea for a memorial sculpture dedicated to the first president of the Republic of Cyprus, Archbishop Makarios III. His work, which mainly focused on large-scale works of public art (primarily iconographic statues and busts of prominent Cypriot figures), often drew inspiration from Classical Greek art and carried an evident ideological symbolism.

For several years, Georgiou had been collecting, enlarging and experimenting with dozens of Makarios' photographs, studying in particular the archbishop's hand gestures—an inherent part of Makarios' political oral modality. This photographic archive became the inspiration for five sculpture studies created in his studio during that period. His concept called for an oversized sculpture of Makarios' hand pointing and/or greeting1, which, as Georgiou stated, "perfectly encapsulates the Ethnarch's dedication to the struggles of the Cypriot nation for freedom and justice."2 According to Georgiou's notes, the monument was to be placed atop Liontarovounos, a trapezoid hill on the outskirts of Nicosia (in the Aglantzia district) overlooking the northern Turkish-occupied Cypriot territory. Georgiou was never commissioned to produce or even conceive an idea for a public monument—public art in Cyprus is typically initiated through governmental or institutional channels—but it seems that this was an important personal project for the artist. As the work was being finalized, Georgiou proposed the idea for the monument to the Ministry of Education as a suitable project to honor and commemorate the 20-year anniversary of Makarios' death. Despite the lengthy ensuing correspondence with the Cyprus Ministry of Education and the Cultural Services Department, Georgiou's project was never realized.
In 2017, Lambouris came across a copy of a letter that contained Georgiou's proposal, and after contacting the family of the artist, gained access to his studio and work archives documenting and revisiting the Makarios monument proposal. Lambouris studied and "re-constructed" Georgiou's artistic process and produced a number of photographs of Liontarovounos, the site of the unrealized memorial sculpture.
---
[1]

Text descriptions, sketches, drawings, plaster model studies, sketchbooks and maps found in Georgiou's studio outline in detail his various concept proposals, technical specifications, and meticulous study of the specific site proposed for installation.


[2]

Excerpt from Georgiou's February 7, 1994 letter addressed to the Cypriot Minister of Education.